For laundries at hospitals, laboratories and other industries. A sterile processing cycle program for high volume laundries that need FAST sterilization and COMPLETELY dry loads.
Achieve superior garment sterilization success rates
Reduce cycle times to maximize your capacity for both wrapped and unwrapped loads 
•  Special drying cycle - for a completely dry load
•  Fast cycle speed - for wrapped & unwrapped load
•  Suitable for clothes (medical and industrial), shoes and fabrics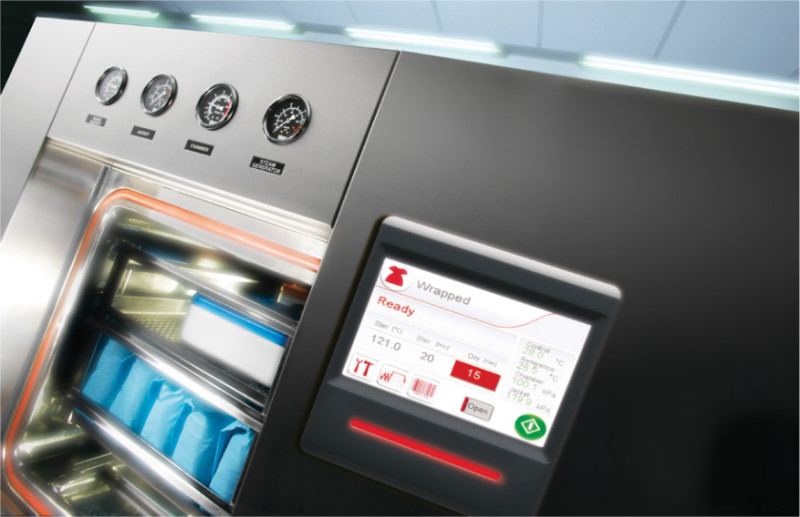 A unique Coronvirus decontamination pre-sterilization cycle
The challenge of garment sterilization
The main challenge with fabric reprocessing is that fabric does not absorb heat very well, which results in residuals of condensed steam which might hinder the dryness of the sterilized items and hurt the quality of their sterilization.
We have a solution for you
Tuttanuer's garment reprocessing cycle program was developed for laundries with high volume loads in medical institutes and laboratories, offering FAST reprocessing and COMPLETELY dry loads. We cover it all, from surgical gowns, surgeon overalls fabric, used tools, hospital clothes and shoes to laboratory work clothes, cotton fabrics and fabric accessories for sterilization.
Virus protective biohazard filter
We have developed an innovative biohazard filter that creates a protective shield to prevent the emission of bio-contaminants and viruses into the environment during the air-removal phase. This can be applied when reprocessing clothing, bed sheets, working uniforms and more, to assure that every garment is released completely decontaminated.
Stopping contamination transmission

Meeting medical standards
The technical specification for washing and disinfection of medical fabrics in most hospitals and medical institutes stipulates that reusable textiles in hospitals are medical fabrics, including clothing used by patients, sheets, quilts and pillow cases; work clothes and caps used by staff; surgical gowns, surgical shop orders; bed curtains, curtains, and cloth towels and floor towels for environmental cleaning.
Meeting global standards
ANSI/AAMI ST-8:2013 - Hospital Steam Sterilizers
EN 285: 2006+A2: 2009 - Large Steam Sterilizer
ASME code section I and section VIII, Div. I
PED 97/23/EC - Pressure Equipment Directive
EN ISO 13485:2016 Quality Management System - Medical Devices
93/42/EEC Council Directive concerning Medical Devices
Sorry about that
How can we improve it?
Thanks for your feedback!