The curtain on Rio's 2016 Olympics rose August 5, 2016, in the shadow of new threats that seem to break into the media's headlines each day.
First there was the Russian doping scandal, then there were the athletes who were robbed at gunpoint on the streets of Rio. Terrorism is also a topic of concern, as Brazilian police have arrested 10 ISIS terrorists plotting attacks during the Olympics.  And in the background is Brazil's unsettled political climate with a two year recession, and its President Dilma Rousseff facing an impeachment process.
All these issues are of concern and were widely covered by the media. Our blog, however, focuses on sterilization and infection control, so we will track these issues in the Rio Olympics. Often this topic does not grab headlines unless some catastrophe happens. Unbeknownst to many, there are actually several problems related to sanitation and infection control that are of immediate concern in Rio.
It Takes a Village to Host the Athletes
In the media we see the glorious moments of athletes reaching new heights, but what about all the behind-the-scenes work? Like where do all the athletes, coaches and staff stay? The Rio Olympic Village is an accommodation center built to house all participating athletes, as well as officials and athletic trainers. With a capacity of 17,950 people and a total of 3,604 apartments and 31 buildings, it is one of the biggest Olympic Villages in the history of the Olympic Games.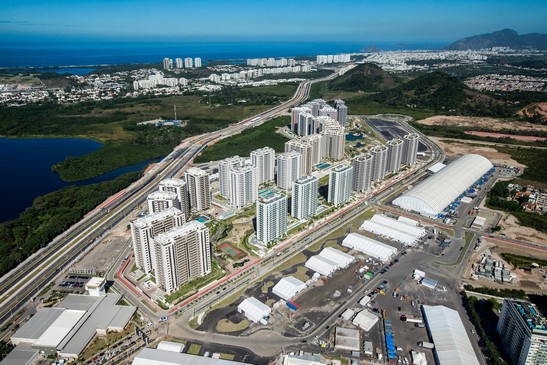 And properly maintaining such a large accommodation center has its challenges. For example, the sanitary conditions in the Olympic village are problematic due to poor plumbing. The head of Australia's delegation raised concerns over blocked toilets, leaking pipes and exposed wiring inside the complex of the Olympic Village. The implications of bad plumbing can amount to diarrhea or other diseases carried by unsanitary leaking water.
Another severe problem is the contaminated waters. Athletes taking part in water-based events must also contend with human waste being dumped into the city's waterways, and especially Guanabara Bay, where all open-water events will be held. Rio de Janeiro environmentalist Andrea Correa is well aware of the problem, as she was quoted in The New York Times: "Our biggest plague, our biggest environmental problem, is basic sanitation, The Olympics has woken people up to the problem." Recent tests by government and independent scientists revealed a veritable petri dish of pathogens in many of the city's waters, from rotaviruses that can cause diarrhea and vomiting to drug-resistant "superbacteria" that can be fatal to people with weakened immune systems.

Guanabara Bay is highly polluted
Government officials and the International Olympic Committee acknowledge that, in many places, the city's waters are filthy. But they say the areas where athletes will compete — like the waters off Copacabana Beach, where swimmers will race — meet World Health Organization safety standards. During a surfing competition here last year, about a quarter of the participants ended up with nausea and diarrhea. When Brazil won the 2009 bid for the Olympic Games, it pledged to spend $4 billion to clean up 80 percent of untreated sewage. In the end, the government spent just $170 million.
On top of these serious health risks is the Zika virus. Engendering worldwide concern, Zika has caused a number of athletes to withdraw from the Olympic Games. What's all the fuss about? Who's at risk? What are the risks? Let's answer these questions and more about the biggest health scare of 2016.
What is Zika? A short Intro
Let's start with the basics: Zika disease is caused by the Zika virus that is spread to people primarily through the bite of infected Aedes aegypti and Aedes albopictus mosquitoes. The most common symptoms of Zika are mild fever, skin rash, joint pain, conjunctivitis (red eyes), malaise, and headache. Rarely, it can cause brain and autoimmune problems. Symptoms usually show up in 3-12 days, but 60-80% of those infected show no symptoms at all. Zika has been found to still be active in semen 60 days after exposure, and men are advised to wait six months before engaging in sexual intercourse, even if using protection. Brazil has been hardest hit by the disease outbreak, and many physicians, competitors and potential visitors have expressed fears the Olympics could serve as a catalyst to spread the virus globally. Brazilian researchers say they believe that Zika, which has been linked to severe birth defects, came to their country during another major sports event — the 2014 World Cup — when hundreds of thousands of visitors flowed into Brazil. Virus trackers there say that the strain raging in Brazil probably came from Polynesia.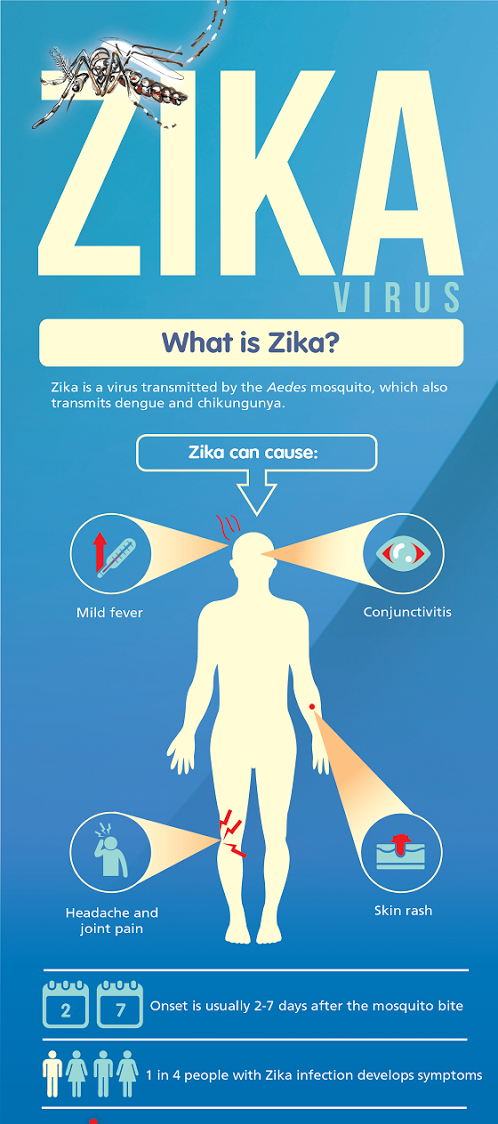 Is Zika Virus Curable?
There is currently no vaccine or treatment for Zika, which is spread primarily through the bite of an infected mosquito. The virus can also be spread through sexual transmission.
At first glance Zika doesn't seem to pose a serious threat. In agreement with this claim is Professor Jimmy Whitworth from the London School of Hygiene and Tropical Medicine, who claims that "Zika is usually a mild, short-lived viral illness. In fact, most people don't even realize they've been infected." Although the Zika virus remains in the system for a few months, one wouldn't expect to feel more than sore eyes, a few rashes and the odd muscular ache. (So if you're visiting Rio for the Olympics you should probably worry more about muggings :-))
So Why Panic?
The biggest danger is for women who have been exposed to Zika. Children conceived when Zika is contracted are at risk of being born with microcephaly, a condition causing babies to develop smaller-than-normal heads, leading to deformities and brain damage.
Are the Athletes Right to Bail?
Although Zika has been around since 1940, it was largely dismissed as a major health concern until enough cases cropped up that scientists made the connection to microcephaly. Besides the likelihood of babies contracting microcephaly when their mothers were exposed to Zika, it's not clear if there are any other serious long-term ramifications. In terms of other, possibly more dangerous health problems, Zika won't top the list for the majority of athletes; they may be more likely to contract a gastrointestinal bug. But that doesn't mean precautions to lower the risk of Zika exposure shouldn't be taken.
Risk Assessment at the Olympics
The 2016 Olympic Games in Rio attract 10,500 competing athletes and as many as 500,000 visitors. The question is does Zika pose a real threat to those attending the Olympics? There is no clear consensus. We will explore both sides of the issue. 
Why Zika Virus Poses a Real Risk for Olympics Attendants
On May 2016, 150 members of the international academic community recommended that the Olympic Games in Rio be canceled or relocated on the grounds of preventing the spread of Zika. Some athletes have also said they will not travel to Rio to compete due to health concerns associated with Zika.
Why Zika is not a real risk for Olympics Attendants
Most officials, including the World Health Organization, claim that the risk of Zika virus infections at the Olympic Games is both low and manageable. The Zika virus poses a negligible health threat to the international community during the Olympic Games in Rio de Janeiro, Brazil, according to researchers at the Yale School of Public Health (YSPH). In a worst-case scenario, an estimated 3 to 37 of the thousands of athletes, spectators, media, and vendors traveling to Rio for the Olympics will bring the Zika virus back to their home countries, the researchers concluded. The findings support the position of the World Health Organization, which has said that travel to and from the Olympics will not play a significant role in the international spread of Zika. Yale School of Public Health noted that Zika virus may not be as scary as the media portrays it to be—at least not in Brazil. A visitor's probability of contracting the Zika virus is 1 in 56,300.
What precautions are taken to protect the public at the Olympics?
The Zika virus, which is spread predominantly by mosquitoes, is currently widespread in Rio de Janeiro. Mosquito nets were provided over the beds in the athletes' village and all the venues will be made as mosquito-proof as possible. Around 17,000 international athletes, volunteers and staff have been tested in the Brazilian capital and so far none have contracted Zika, but some athletes aren't taking any chances.
Tips that Will Reduce the Risk
Use insect repellent and wear light-colored clothing that covers as much of the body as possible.
Choose air-conditioned or screened-in accommodations where windows and doors are usually kept closed to prevent mosquitoes from entering.
Use condoms while attending the Games and for at least 8 weeks after returning. If one's partner is pregnant, use condoms throughout her pregnancy.

Avoid visiting areas in cities and towns with no piped water or poor sanitation, where the risk of being bitten by mosquitoes is higher.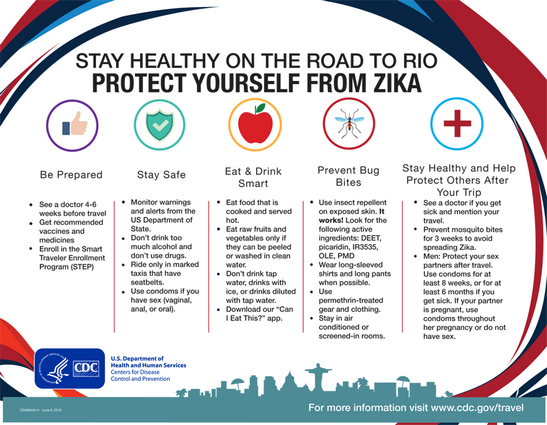 Tips for staying healthy in Rio Olympics
Who Pulled Out of the Olympic Games?
Although WHO has determined the Zika virus to be of very low risk, there were some athletes who prefered not to take the chance and have withdrawn from the games. Also some journalists and potential attendants avoided Rio for fear of Zika exposure. A list of disciplines and athletes boycotting the Rio Olympics due to their fear of Zika exposure are:
♦ Tennis:
Canadian number-seven champ and Wimbledon finalist Milos Raonic
Czech tennis star Tomas Berdych 
Romanian number five-ranked Simona Halep
♦ Golf is back on the Olympics for the first time in over 100 years. Or is it? The world's top four players have cited Zika virus as their reason for pulling out.
Jason Day
Jordan Spieth
Rory Mcllroy 
Dustin Johnson
♦ Cycling:
♦ Basketball:
LeBron James
Stephen Curry 
Not only athletes withdrew from the games, but also many visitors decided to skip the current Olympics. Probably the most famous are Duchess Kate Middleton and Prince William who were planning to go to the Rio Olympics 2016, but the royal couple decided not to travel to Brazil, which was hit hardest by the virus.
As the olympic games are well into the first week no Zika cases have been reported. But Zika and other health hazards are lurking over the olympics. Zika already had an economic toll in the form of 1.2 million unsold tickets to the Olympic Games. We hope that the only drama that arises is from the competition itself. Good luck world!
Sorry about that
How can we improve it?
Thanks for your feedback!