Advanced Control System for Your CSSD
Take advantage of Tuttnauer's sophisticated user-friendly control systems for repeatable high performance. Choose either Tuttnauer's sophisticated Bacsoft controller or the Allen-Bradley (AB 1400 PLC) controller (not for HSG).
Standard Features
7" Multi-color touch screen panel
5" Multi-color screen with touch pad (for HSG)
Keypad control panel on second door of two door autoclaves with Bacsoft controller
Stores the last 200 cycles in built-in memory (Bacsoft)
Multiple access levels and user passwords to control access/ operation of the autoclave
Diagnostic In/Out test (enables technician to check each system component separately)
Sterilization Temperature range 105°C to 138°C
Optional Feature
10" Multi-color touch screen
Sophisticated Touch Screen HMI
The HMI (Human Machine Interface) has been designed with the following considerations:
Multi-color display for easier reading from a distance
Multilingual (26 languages)
Graphical display of Temperature and Pressure trend graphs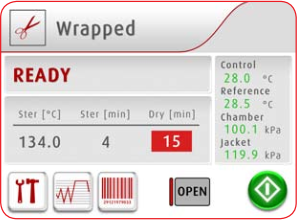 R.PC.R Software
Automatic Recording of Cycle Information to your PC
Reporting You Can Rely On
Automatic cycle data recording to any PC on your network
Convenient access to graphs & tables
Easily generate PDF reports
No need to file printouts, saving you time
Be in Control with Real-Time Remote Monitoring
See the real-time autoclave display on your PC
Monitor all activity for up to 8 autoclaves
R.PC.R Software is optional.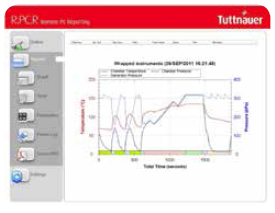 With R.PC.R you can see: Graphs of the cycle data, numeric
cycle data, cycle print-outs, measured values table, table of
parameters.