Ideal for Laboratory Applications
The autoclave operates with saturated steam as the sterilizing agent with a temperature range of 105 °C (221°F) to 138 °C (280 °F) and a working pressure that meets AMSE and PED requirements. Each autoclave model is available with either single or double door.
The 44/55 series is available with two door options:
Fully automatic vertical sliding door
Manual Hinged door
Engineered with People in Mind
Tuttnauer autoclaves are built to last longer, perform consistently, and comply with the strictest international standards. Autoclave chambers are constructed of long lasting 316L grade stainless steel with superior corrosion resistance. The chambers are fully jacketed for uniform heat distribution. The generator and piping are constructed of stainless steel. The pneumatic valves are air pressure operated, significantly reducing maintenance. We work to keep our autoclaves state of the art.
Safety is Our Top Priority
Door Safety
The autoclave doors are designed with a number of independent mechanical and digital safety features. This guarantees that if a problem should occur, an autoclave failure will be prevented.
A safety device prevents the operator from opening the door when chamber is pressurized
Steam is not allowed into the chamber when the door is open
A cycle cannot start if the door is open or not properly locked
The door cannot unlock until chamber pressure reaches room pressure
Sliding Door Safety - The sliding door progress will automatically stop if an obstruction is detected
Double Door Safety – interlocks prevent both doors from being
General Safety Features
Double Independent Monitoring: The combined digital and mechanical monitoring provides a cross reference and guarantees accurate results. The operator has two independent means to monitor temperature and pressure.
Safety Valves: Both the chamber and the jacket are equipped with safety valves – if the pressure exceeds the allowed limit the safety valves will discharge
Built-in Steam Generator Safety: A water level monitoring system maintains a constant water level and ensures safe operation of the heaters
Emergency shut-off: Easily accessible emergency switches for immediate cycle shut-off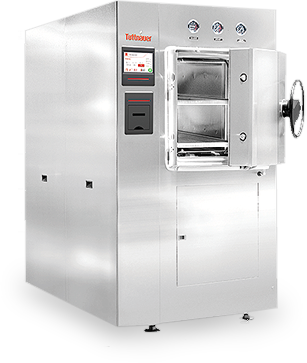 Manual Hinged Door
​
​
Vertical Sliding Door - Control Panel on Side