The National Institute for Biological Standards and Control (NIBSC) is a center of the Medicines and Healthcare Products Regulatory Agency in South Mimms - Hertfordshire in the United Kingdom.
The facilities of NIBSC were officially opened in 1988 which means that some buildings and equipment now require refurbishment. As part of this project of refurbishment Tuttnauer (via Sychem) was granted an order for the supply of three large sterilizers. The order involved was for two floor loader bulk sterilizers 368660-2H-SP with a volume of 3040 liters each and one 6990W-2H-SP of 550 liters.
All sterilizers are equipped with a Bio Hazard System to prevent the release of micro-organisms in the environment. With refurbishment jobs it is often problematic to fit the new equipment in existing facilities. This is due to the dimensions of the site and requirement changes for the equipment. Beside that the access to the erection site can be problematic in an older building in full operation.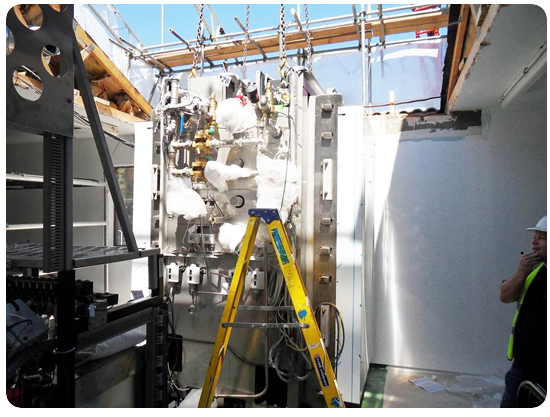 One of the bulk sterilizers had to come through the opened rooftop.
The other sterilizer was completely stripped to the naked chamber, because the access route was too narrow. Even the sterilizer chamber insulation paneling was removed. In addition to that, we had only 20mm space from the ceiling while the sterilizer chamber was lowered into the pit.
All this made it necessary to dismantle the sterilizer completely in the factory and reassemble it on the spot.
At the end of the successful installation, commissioning and validation period the sterilizers were handed over to the department managers, end of December 2012.
The sterilizers have been up and running ever since and we were happy to add this prestigious Institute, as one of our satisfied clients, to our reference list.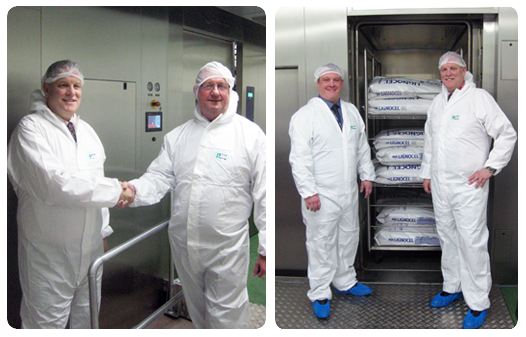 Left: Mr. Tuttnauer and Stephen Murray – Head of Operations, of NIBSC are shaking hands on the completion of this beautiful, but challenging project
Right: Mr. Ran Tuttnauer CEO of Tuttnauer Ltd. with the lead autoclave engineer of Sychem who was in charge of the assembly of the sterilizer after the chamber was erected on the installation site.
Sorry about that
How can we improve it?
Thanks for your feedback!