Advanced Control System for Your CSSD
Take advantage of Tuttnauer's sophisticated user-friendly control systems for repeatable high performance. Choose either Tuttnauer's sophisticated Bacsoft controller or the Allen-Bradley (AB 1400 PLC) controller.
Standard Features
7" Multi-color touch screen panel
Keypad control panel on second door of two door autoclaves with Bacsoft controller
Stores the last 200 cycles in built-in memory (Bacsoft)
Multiple access levels and user passwords to control access/ operation of the autoclave
Diagnostic In/Out test (enables technician to check each system component separately)
Sterilization Temperature range 105°C to 138°C
Optional Features
10" Multi-color touch screen
21 CFR part 11
Independent Recording for cross-checking cycle measurements
Disinfection/Isothermal Temperature range from 70°C to 95°C
Load Tracing with Barcodes
When loading the autoclave a barcode reader can be used to scan the barcodes of each load. Once the cycle starts the barcode numbers will be printed together with cycle information.
Process Workflow Management Data Connection
Provides real-time data to any process workflow management system supporting Modbus.
Sophisticated Touch Screen HMI
The HMI (Human Machine Interface) has been designed with the following considerations:
Multi-color display for easier reading from a distance
Multilingual (26 languages)
Graphical display of Temperature and Pressure trend graphs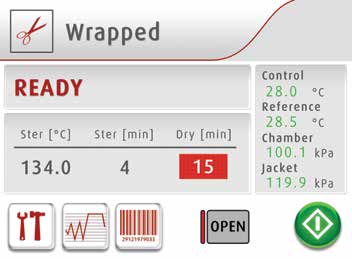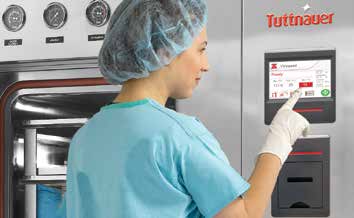 Cycle Programs
T-Max autoclaves are preprogrammed with 8 perfectly optimized cycle programs that cover the processing needs of most CSSDs and Operating Rooms.
8 Preset Cycle Programs
Unwrapped cycle for operating rooms (OR) that need surgery instruments for immediate use
Wrapped and double wrapped loads for CSSD processing on instruments and textiles at 134°C and 121°C for delicate instruments
Additional special program cycles for prion applications and special wrapping materials
2 Test Cycles
Bowie Dick/Helix for steam penetration testing
Leak test to check vacuum integrity
Custom Cycles
20 cycles available for customized cycle programs
Bacsoft Controller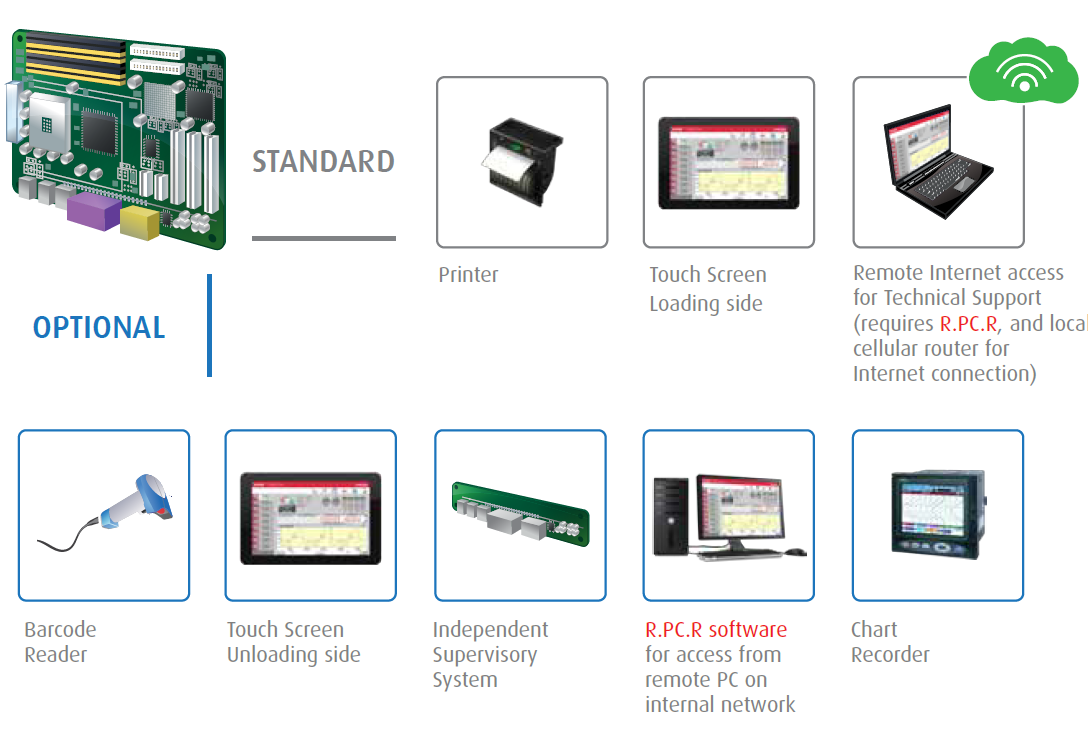 Allen-Bradley Control System
Optional Allen-Bradley advanced control system based on MicroLogix 1400 PLC controller includes the features of Bacsoft.  Allen-Bradley controller supports automatic recording of cycle information to USB memory device only. With R.PC.R. the remote monitoring feature is not available.