Advanced Control System for Your Laboratory
Take advantage of Tuttnauer's sophisticated user-friendly control systems for repeatable high performance. 
Choose either Tuttnauer's sophisticated Bacsoft controller or the Allen-Bradley (AB 1400 PLC) controller.
Standard Features
7" Multi-color touch screen panel
Keypad control panel on second door of two door autoclaves with Bacsoft controller
Stores the last 200 cycles in built-in memory (Bacsoft)
Multiple access levels and user passwords to control access/operation of the autoclave
Diagnostic In/Out test (enables technician to check each system component separately)
Sterilization Temperature range 105°C to 138°C
PID (Proportional Integral Differential) pressure control
Filter replacement notifications
Optional Features
10" Multi-color touch screen
Up to 8 different barcode readers
Independent Recording for cross-checking cycle measurements
Disinfection/Isothermal Temperature range from 70°C to 95°C
F0 software control
21 CFR part 11

Sophisticated Touch Screen HMI
The HMI (Human Machine Interface) has been designed with the following considerations:
Multi-color display for easier reading from a distance
Multilingual (26 languages)
Graphical display of Temperature and Pressure trend graphs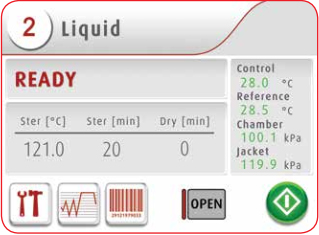 ​
Need more Information?
Brochure
Download the brochure and learn more about this autoclaves capabilities
Need help choosing?
Ready to place your order? We are here to assist you with any questions you may have.