Delivering patient-centric safety and care
The Tuttnauer Smart Process
We know Infection Control
We are the experts
Washing the
contaminated equipment
Documentation & Traceability
Quality assurance for the
contemporary clinic
Processing & Sterilization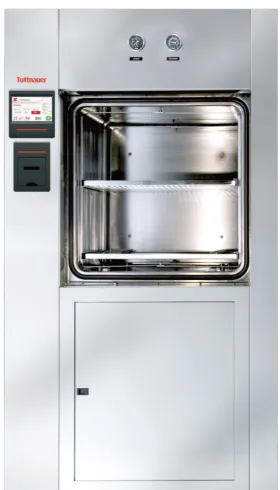 Turnkey Solutions
Benefit from our vast industry experience. Our team of sales, engineering, installation, and service professionals will assist you to cost effectively achieve all your sterilization and processing needs.
Hospital Sterile Processing Solutions by Tuttnauer
We support hospitals and ASCs by designing, implementing, and maintaining high-end sterile processing workflows where medical instruments, endoscopes and textiles are cleaned, disinfected, and sterilized. 
 
We provide sterile processing equipment that fit the requirements of hospitals and ASCs.
One integrated complete solution 
that serves all your sterilization needs.
95 years of excellence in providing 
solutions for sterilization.
200 distributors worldwide
500 Employees
Presence on all five continents
Offices located around the globe
From our Blog
The Important Facts about Infection Control in ASC's
Ambulatory surgery centers (ASCs) have made convenient surgery possible in the United States. These centers have become very popular within the last two decades.
The number of surgical procedures performed outside of the traditional hospital setting has increased significantly. During the past two decades, freestanding outpatient surgery centers have represented one of the fastest growing health care settings. At the end of 1997, there were more than 2,600 such centers in the United States. In the same year, more than five million surgical procedures, led by ophthalmological and gastroenterological procedures, were performed in freestanding outpatient surgery centers. An additional 3.6 million minor surgical procedures were performed in physician office-based facilities.  There are over eighteen thousand Ambulatory Surgery Centers in the US as of 2023.
Connectivity Is Why I Love the Modern Autoclave
We all know how passionate I am about ensuring proper infection control in dental practices, and one of the key factors to achieving this is having the most effective equipment. This includes an autoclave that meets international standards and all the regulatory requirements.
Running a subpar autoclave puts your practice at a higher risk of spreading infections, cross-infection, and contamination, let alone the inefficiencies that end up costing you time and money.
How In-office Biological Monitoring Can Save you from Infection Control Breaches
As an ICC certified in dental infection prevention and control, I am always asking about infection control protocols. Once, during a volunteer program offering dental care services, I asked about their procedures for monitoring sterilization, such as chemical, mechanical, and biological monitoring. Most of the time, offices are making efforts, and I am always excited to help guide them the rest of the way.
In one situation, the answer was, "we don't do any of that." I was speechless. I dared to ask about autoclave maintenance and how often the team was cleaning and maintaining the autoclave.  The answer also left me speechless. From that moment on, I assume they are doing nothing until proven otherwise.