The tiva washer-disinfector line
Tiva washer disinfectors provide a flexible turnkey solution for washing, disinfecting and drying diverse medical instruments for a complete decontamination life cycle.
The TIVA 10-M washer is equipped with manual hinged glass door/s and is best suited for surgical and sterilization departments. It can be loaded with up to 6 washing levels of total 12 DIN baskets with large variety of washing trolleys and accessories. Available trolleys for surgical instruments, tubular, laparoscopy, ophthalmology, containers, shoes, anesthesia and more.
Features
Manual glass door/s
Washing chamber made of high quality AISI 316L
Touch panel with color graphic display
A total of 40 programs: Preset and programmable
Air drying prefilter + HEPA H14 filter
Boiler for purified water
2 dosing pumps with flowmeter for acid and alkaline detergents (2 additional pumps optional)
3 heating elements
USB/ Printer for data documentation
Built-in steam condenser
Storage cabinet for four 5L detergents
Optional
Conductivity measurements to check rinse water quality before disinfection phase (if the machine is equipped with demineralized water connections)
Chamber LED light: Operates during loading, unloading and program running
Washing trolley recognition
Spray arm continuous monitoring of water system to guarantee that the load is currently washed
Frame closing for pass-through configuration
Wall drain pump
Utility steam connection/hybrid heating: Steam and electric
Water connection for normal version: Cold water softener, purified water
Water connection for HS version: Cold water softener, 2nd boiler for warm water
Graphic report of washing phases including time and temperature
Tiva 10-1M
Tiva 10-2M
265 liter chamber
Dimensions (WxDxH) 650mm x 700mm x1850mm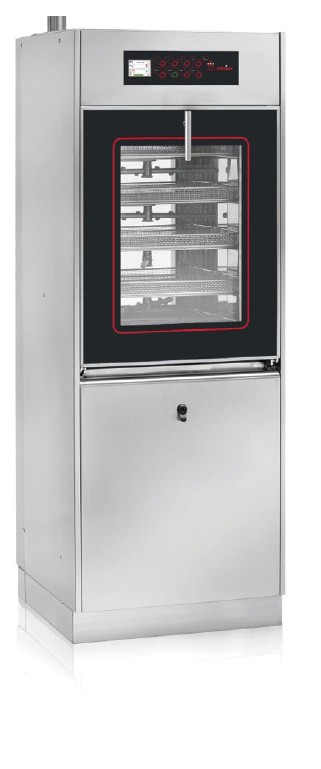 Tiva 10-2M-HS
Tiva 10-2M-HS
265 liter chamber
Dimensions (WxDxH) 650mm x 750mm x 2300mm