Powerful, reliable and customizable
The Tiva 10-1ML is equipped with a manual opening and closing door made of double tempered glass, for laboratory glassware with 4 independent levels. The upper levels are removable for washing large materials. The machine is equipped with a system that filters, electrically heats and forces, with a powerful blower, the air in the wash chamber and
inside the hollow instruments, to obtain an excellent drying result. A wide range of racks, nozzles and accessories complete these machines, suitable to wash and dry a wide variety of laboratory glassware.
Imagen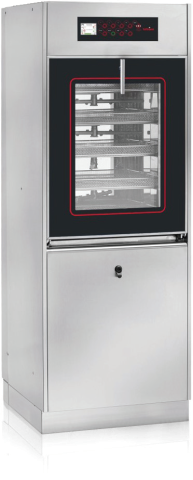 The slim design allows you to fit these models into a small space while maximizing load capacity
Washing chamber made of high quality AISI 316L
265 Liter chamber, suited for sterilization departments
Can be loaded with up to 6 washing levels for a total 12 DIN baskets. Available trolleys for different kinds of loads
Touch panel with color graphic display with a total of 40 programs: preset and programmable
Air drying prefilter + HEPA H14 filter. Boiler for purified water. 2 dosing pumps. 3 heating elements. Built-in steam condenser
For keeping four 5 Liter detergents
Imagen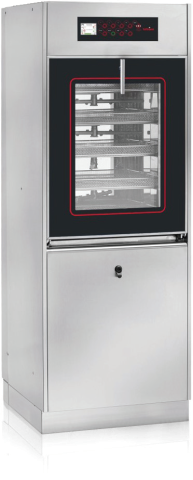 External dimension (WxDxH):
Chamber dimension (WxDxH):
Max drying fan flow rate with filter:
Max number of dosing pumps for chemicals with flowmeters:
Standard device configuration options
USB SLAVE interface for PC
USB HOST interface for FLASH DRIVE
Interface for external printer or data connection exchange
Touch panel with color graphic display
Certificated plumbing system, designed to isolate the potable water pipeline system (water gap) as prescribed by European Standard EN 1717
Wash chamber made of high quality stainless steel, AISI 316L (EN 1.4404)
Deionized water connection