Lifting Device
The lifting device assists in loading and unloading heavy items, making it an effortless experience. The lifting device is attached to the autoclave and is equipped with an integrated swivel arm for maximum maneuverability. It is also equipped with a remote control for smooth handling of all load types.
Baskets and Containers
Stainless steel baskets and containers in different sizes for vertical autoclave models.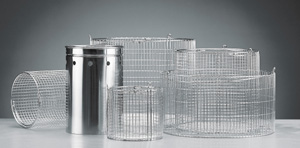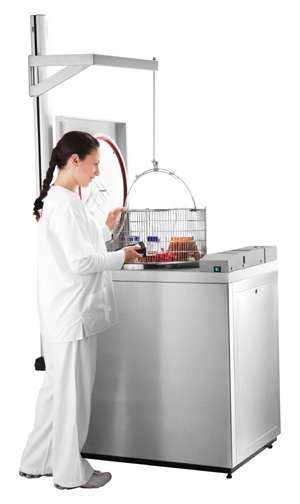 Erlenmeyer Flasks (ml) Loading Capacity
| Model | 250 | 500 | 1000 | 2000 | 3000 | 5000 |
| --- | --- | --- | --- | --- | --- | --- |
| 2540 | 2 x 5 | 2 x 4 | 1  | 1 | 1 | 1 |
| 3170 | 4 x 8 | 3 x 4 | 2 x 3 | 2 x 1 | 2 x 1 | 1 |
| 3850 | 3 x 12 | 2 x 7 | 2 x 4 | 2 x 3 | 2 | 1 |
| 3870 | 4 x 12 | 3 x 7 | 2 x 4 | 7 | 2 x 2 | 1 |
Schott-Duran Flasks (ml) Loading Capacity
| Model | 250 | 500 | 1000 | 2000 | 3000 | 5000 |
| --- | --- | --- | --- | --- | --- | --- |
| 2540 | 2 x 8 | 2 x 5 | 4 | 1 | 1 | - |
| 3170 | 4 x 12 | 3 x 8 | 2 x 5 | 2 x 3 | 1 | 1 |
| 3850 | 3 x 18 | 2 x 11 | 2 x 8 | 4 | 2 | 1 |
| 3870 | 4 x 18 | 3 x 11 | 2 x 8 | 2 x 4 | 2 | 1 |