Advanced Control System
Take advantage of Tuttnauer's sophisticated user-friendly PLC control system based on the advanced Allen-Bradley MicroLogix 1400 platform in all pharmaceutical autoclaves.
Standard Features
7" Multi-color touch screen (loading and unloading side)
Sterilization temperature range 110°C to 137°C
5 Operation access levels and up to 99 user accounts
Over 1000 cycles & event data stored in internal memory (HTML and CSV)
Up to 100 cycle programs (customizable by user)
Cycle simulation (for testing cycles)
Easy file transfer via USB or LAN
Thermal serial printer
Ethernet connection for remote monitoring, maintenance, and software updates
Preventative maintenance notifications based on the number of cycles
In/Out test
21 CFR part 11
HMI Screen
On screen display of historical cycle data (CSV format)
Graphical display of Temperature and Pressure trend graphs
Multi-color display for easy reading
Quick access to important information
Multilingual support for over 20 languages
Optional Features
15" Multi-color touch screen (loading and unloading side)
Independent sensors for reference or monitoring
SCADA
Chart recorder
UPS
Screen View & Control with tablet/mobile phone via LAN/WiFi connection
Real-time piping diagram (15" screen only)
Barcode integration
F0 software control
Custom cycle program design according to user needs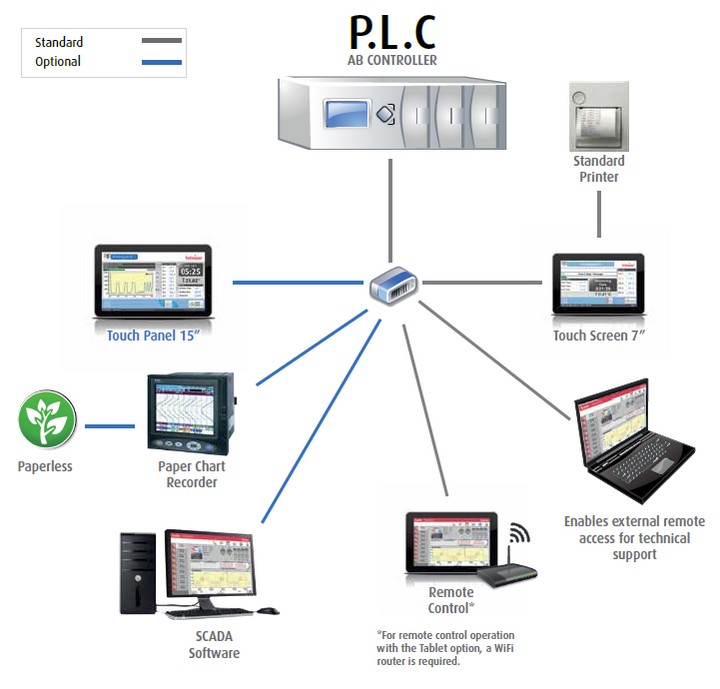 SCADA
SCADA software (optional) allows for monitoring of up to 10 sterilizers from external PC workstations. The software retrieves data, creates graphs, tables and printouts. Data for tens-of-thousands of cycles & events (in HTML format) can be stored.
Dashbord
Real-time temperature, pressure values and graphical trends.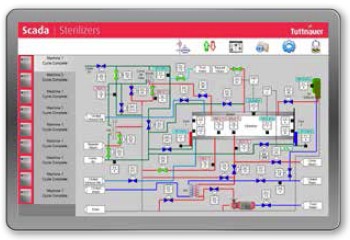 Piping Diagram
Real-time operation of machine.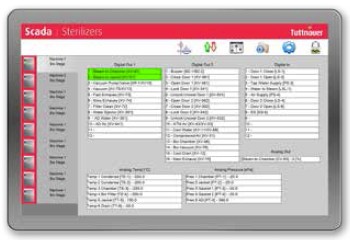 In/Out Digital and Analog Status
A feature for technicians to check each system component separately.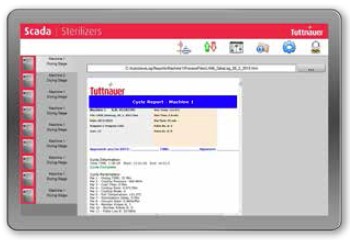 Log Report View
Includes cycle information, parameters, data, and graphical trends.