Exceptional Performance & Exceptional Results
The Elara 9D tabletop autoclave is a reliable and robust Class B Autoclave designed for the needs of modern clinics where autoclaves are expected to meet sophisticated international standards and operate non-stop every day. Elara Autoclaves are designed for the sterilization processing needs of Medical Clinics, Dental Clinics and Veterinary Clinics.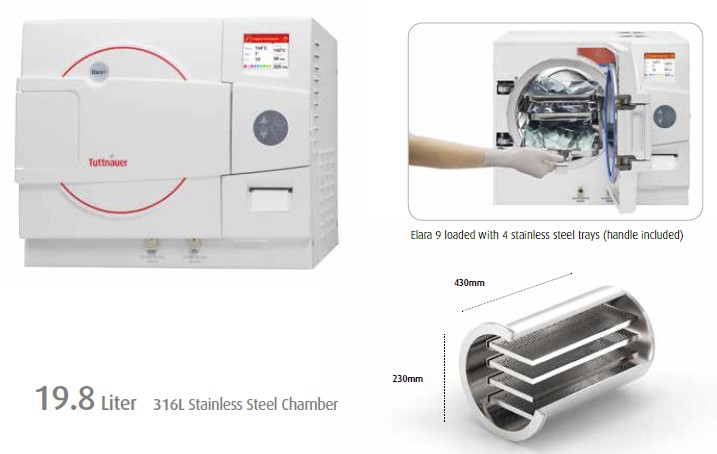 ​
Long Lasting Autoclave
Top Quality Stainless Steel
Durable 316L stainless steel electro-polished chamber lasts longer than competing 304 stainless steel chambers
Stainless steel door with mirror polish surface is highly resistant to corrosion
Convenient
Water filling
Front water filling allows you to use the space above the autoclave
Top water filling is also available
Automatic feed water (optional) will automatically fill the autoclave reservoir with water
Door
Self-locking door designed to easily close/open door with one hand
Energy Saver
Sleep Mode
Allows user to set time to switch sterilizer to minimum energy consumption
Low Rate Cycle
you can run your sterilizer when electrical power costs are low, like after work hours, by setting a delayed start time
Safety
Safety Features
​Two different locking mechanisms prevent the door from opening while the chamber is pressurized
Cycle will not start if the door is not locked
Door will not open at end of cycle until chamber pressure equalizes to room pressure

Extra Load Capacity
30% More Tray Area
You get extra tray space compared to other autoclaves that offer 17 to 20 liter chambers
Extra capacity per cycle requires less cycles per day, saving you energy costs and water
Class B Performance
Class B performance is achieved with a built-in vacuum pump used for fractionated pre vacuum air removal eliminating air pockets from all load types and maximizing efficient steam penetration throughout the entire load. After the sterilization stage the vacuum pump is used for post-vacuum drying.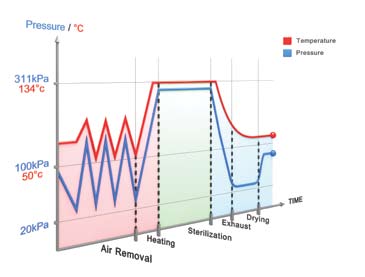 As a family owned business Tuttnauer has manufactured products for over 89 years that have developed a reputation for their quality, high performance, sophisticated features, and ability to satisfy customer expectations. Tuttnauer's sterilization and infection control products are trusted at over 350 000 autoclave installations throughout the world.